CEL Check Engine Light Adapter CEL Eliminator Mini Catalytic Converter O2 Sensor Generic
$21.88
SKU: C206-A004~HWP
Features:
1: The O2 CEL fixture actually incorporates the M18X1.5 miniature catalytic converter,which helps to get rid of the modified exhaust or the inspection engine light after removing the catalytic converter.
2: Made of Zinc Plated Steel which is durable and have high strength to use.
3: AVOID A CHECK ENGINE LIGHT,Catalytic converter built inside and will help get rid of that annoying check engine light.
4: If the O2 sensor is too sensitive, the CEL will still open after loading the canceller, and all problems on the CEL alarm will not be resolved.
5: Easy installation, direct bolt-on, no modification needed.
Product parameters:
Condition: 100% Brand New
Material: SS304+ stainless steel filter
Color: Please refer to the picture
Type: Oxygen Sensor
Fitment Type: Direct Replacement
Thread: M18 X 1.5
Fitment
:
Universal All models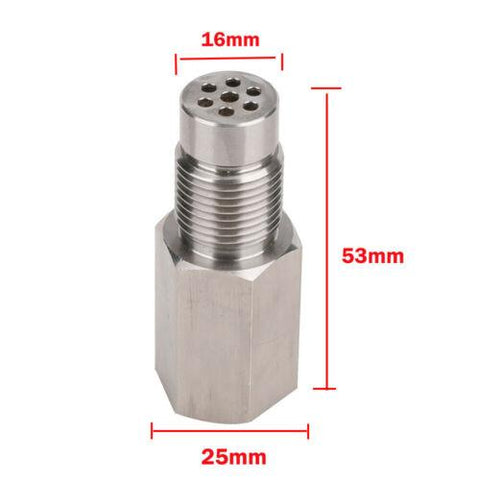 Package list:
1 x Sensor
Shipping Information:
Free Quick Shipping to USA.
Estimated Time of Arrival: within 2-3 working days.
worked
worked as intended. Had to move the o2 hole because it was as long as an o2 sensor. you should get the right angle one if you don't have enough room. Just make sure you only put these on after the cat before it'll Just mess with fuel trims otherwise.
GET IT!!
If your thinking about it , get it !,no light on after a aftermarket update was added .no more annoying light, will get another one for back up
Bung Extender
Didn't work for my case but easy to install and delivery was quick. 2014 Chevy Cruze 1.4L w/ turbo still pulling p0420 code.
FANTASTIC!!
This little giant saved my life, I have a prius 2007 and my cat was stolen I had to put a generic on it and the engine light came on I was robbed at Pep Boys changing the sensor #1 $800 and in 7.8 miles the engine light came on again buy this mini cat installed it in 5 minutes on sensor # 2 and the problem ended, the inspection passed and it did not turn on again and no bloody thief wants to steal a generic cat thanks JCarPart.