1990-1993 Mazda Miata 1.6L 195500-1970 Fuel injectors fit Generic
$19.88
SKU: C199-A100-BLU
Features:
These High Impedance fuel injectors have been 100% tested and exactly match the internal coil resistance and fuel flow rate of OEM fuel injectors.The individual flow characteristics and fuel atomization of above fuel injectors are almost same to or superior to the OEM and will help accelerate response time , save gasoline and improve MPG.

Product parameters:
Product Name : Fuel Injectors
Condition: Brand New
Warranty: 3 Years
Manufacture Part Number: For 195500-1970
Please ensure correct part number before ordering.
Fitment:
For 1990-1992 for Mazda MX-6 2.2L I4
For 1990-1995 for Mazda Miata 1.6/1.8L I4
For 1990-1991 for Mazda 929 3.0L V6
For 1990-1992 for Mazda 626 2.2L I4
For 1990-1992 for Ford Probe 2.2L I4
For 1995 for Mazda MX-3 1.6L I4
For 1995-1997 for Kia Sephia 1.6L I4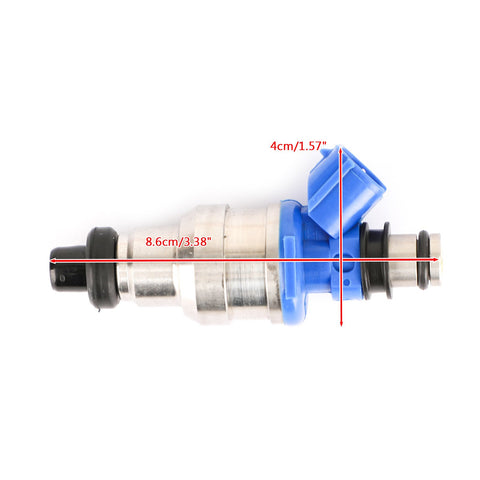 Package list:
1 PCS/ 4 PCS * Fuel Injectors (As you choose)
Shipping Information:
Free Quick Shipping to USA & AUS.
Estimated Time of Arrival: within 3-8 working days.
Perfect what I needed for Mazda
Bought a new one and replaced the old one which has used 5 years.  When I got a new one, all the problems I had before
Great vlaue
These fuel injectors are good, they were worked as expection. The finest quality at a great price.
I have absolutely no complaints, as far as there product it is amazing and the price was the lowest.